Children spend a lot of time playing outdoors, and more often than not, that time is spent playing on a playground. From daycare and school to public parks and neighborhoods, it's not uncommon to find a friendly playground for your child to run, laugh, and play with other children.
While most playgrounds include slides, jungle gyms, and swings, they aren't all created equal.
A lot of playgrounds use wood chips or sand as their undercoat, but artificial grass is increasing in popularity — and for a few good reasons!
If you're considering installing an artificial grass play area, we've compiled a list of the pros and cons of artificial grass so you can feel confident in your decision.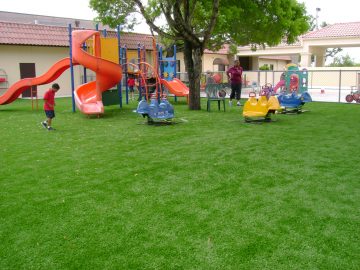 Advantages of Artificial Grass for Playgrounds
Playgrounds see a lot of action. Whether it's the site of the latest birthday party or a place for you to meet up with friends from the neighborhood, they need to be able to withstand a high volume of foot traffic. Unlike wood chips, rubber, or sand that can easily become dislodged from children running around, artificial turf playground flooring stays in place. Children are notorious for picking up objects from the ground and throwing them, which can be avoided altogether by removing wood chips and sand from the equation.
Do you constantly feel like your child needs a bath after spending a few hours on the playground? When wood chips and sand are underfoot, the swing set and other parts of the playground are going to get dirtier. This collection of dirt and debris can even lead to bacteria growth and result in your children catching a cold! With an artificial turf playground, the playground flooring will minimize the amount of dirt that the children are exposed to. While dirt from shoes can still be tracked onto the artificial grass, it can easily be rinsed off with a hose and restored to its original condition.
There are few things more annoying than dealing with allergies, especially if your children suffer from them year-round. Playgrounds built with natural grass can aggravate a child's allergies because it collects pollen and other allergens. When your children are rolling around in the grass or running and kicking up these allergens, they may have a more difficult time breathing. Installing an artificial grass play area instead of using natural grass can help minimize allergic reactions for children.
Because a playground is exposed to all of the elements, it needs to be able to withstand whatever Mother Nature throws its way. Natural grass risks becoming muddy from too much rain or snow — and the same thing happens with sand. While rubber won't become muddy, it can crack and fade when in direct sunlight. Whether your playground is exposed to rain, snow, or sun, artificial turf under the playground will be able to withstand each of these weather conditions and retain its high-end appearance. You won't have to worry about replacing the rubber mulch or dealing with bacteria growth from standing water in puddles due to poor drainage.
If you're considering having artificial grass installed, you're probably wondering if it is a cost-efficient option for your playground. Although the initial installation costs of synthetic grass will be greater than wood chips, sand, or natural grass, it will require less maintenance over time. Apart from a rinse with a hose every now and then, there isn't much that needs to be done to keep the artificial lawn looking its best. You can avoid mowing, trimming, weeding, and fertilizing.
Disadvantages of a Synthetic Grass Play Area
Unlike a natural grass playground or one using wood chips or sand, synthetic turf can become extremely hot when in direct sunlight. If your playground isn't shaded and in an area where the temperatures can become quite extreme, it may not be the best option. Artificial turf can get hotter than asphalt and cause burns if a child were to fall on the fake grass. If your playground is shaded by trees, then the playground flooring shouldn't reach extreme temperatures and cause any problems.
Although using various types of artificial grass in a playground area will lower the ongoing maintenance costs, the installation cost is greater than opting for options such as wood chips, sand, or rubber mulch. While it will cost you more upfront, it won't cost much to maintain because you will simply need to give it a rinse and it will continue looking its best. With that in mind, it's important to determine if you have the budget for a synthetic turf play area or if you will need to opt for a less expensive material.
Synthetic turf playgrounds have quite a few advantages that can't be ignored. From minimizing the amount of time and money spent on maintenance to reducing a child's exposure to allergens, it's a great option to consider when designing a playground. Whatever type of artificial grass you decide to install as your playground flooring, our team can help.
Contact us to schedule an appointment for artificial grass playground installation.