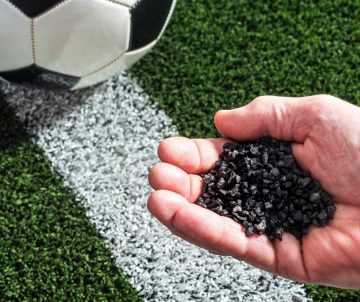 Artificial turf infill is a material used to make artificial grass more realistic. Manufacturers can make it from natural materials such as sand or synthetic materials like Zeolite granules. Artificial turf infill can be used on its own or with other products, including the backing layer of an artificial lawn and the top surface of a synthetic sports field. 
This essential guide will walk you through all aspects like what it is, what it's for, how to use it, when to use it, and some types of infills that are available!
What is Artificial Turf Infill, and What is it Used For?
Artificial turf infill is what you put between the artificial turf fibers to help them stay together. It also provides padding, drainage, and eliminates pet odors. Synthetic Grass Infill can be made of different materials like sand, rubber, or polypropylene.
Polypropylene has an added benefit because it does not absorb water which means that it won't become heavy when wet and will drain quickly. Another type of artificial grass infill is rubber granules which are soft enough for children's play areas but hard enough to provide stability for large commercial installations.
Artificial turf without infill doesn't stand up well on its own because the blades are too far apart from each other, so they get pulled out easily by external forces like rain or wind. This is why infill in artificial grass is so important.
There are several reasons to use artificial grass infill, but the most common ones include:
Protecting the backing from UV rays

– If the backing gets too much sun, it can become dry and brittle, which will cause the turf to tear when walking on. This could be the difference between replacing in 3-5 years or 10+ years with infill.

Adding weight to the turf

– Infill is added to the artificial grass fibers to give it weight, preventing the turf from being damaged during heavy winds.

Support for fibers

– Artificial grass infill is added to the fibers to support them. This will make a big difference when heavy objects are walked on it, like playground equipment or sports goalposts.

Padding

– The infill will provide padding and give your turf a bit of springiness. This will be especially important in areas where children play.

Drainage

– Artificial grass infill is added to the artificial turf fibers in order to help with drainage. This can make a big difference when heavy rains come down.

Eliminates Pet Odors

– Artificial turf infill will help eliminate pet odors by adding a bottom layer to the artificial grass system. This prevents any moisture or liquid from coming through, so urine doesn't build up and create an unpleasant smell.
Artificial Grass Infill is used in almost all artificial lawns, including putting greens, playgrounds, landscapes, backyards, pet areas, and more.
How to Install Artificial Grass Infill for a Perfect Surfacing Result!
Installing synthetic turf is a demanding task. The infill installation is an essential part of an artificial turf installation, and it needs to be done correctly to get a perfect result. For best results, follow our recommended steps below:
The first step is to take out the old surface, like sod, asphalt, or concrete.

Then put down a layer of soil and add stones to secure drainage.

Now you can install the synthetic turf.

Next, add the infill with a spreader which will provide an even coat that will help with drainage, cushioning, and help with wear and tear on your new surface. If you don't have a spreader, you can spread it by hand as evenly as possible.

Finally, use a stiff-bristled broom or power broom to work the infill evenly into the grass blades.

Repeat steps 4 and 5 until the infill is fully installed, and then wet down the area to get rid of dust and allow the infill to settle.
Since infills are made of various materials, they may come with different instructions on how much water is needed for proper mixing. For example, Zeolite infills may require more water than sand ones for the same consistency of a mixture.
When Should You Install Infill?
Infill installation should be done right after the new synthetic surface has been installed and is fully inflated. That means there will be no seams, so you don't have to worry about applying infill evenly on both sides of every seam.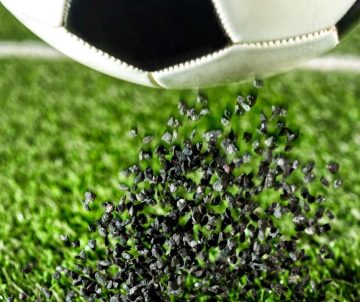 The 3 Most Common Types of Artificial Turf Infills
When looking into the infill, you will most likely see crumb rubber, acrylic/silica-coated sand, and Zeolite.
Crumb Rubber

infills are made from shredded tire scraps that have been molded into small pieces of black or brown granules. Manufacturers formed the ground-up tires to resemble real dirt, and the result is a safe alternative for kids who play on turf fields year-round. This type of infill is ideal for sports fields and playgrounds.

Silica/Acrylic-coated sand

is typically brown when dry because it has been dyed to look like natural soil. The surface area of the infill particles are much larger than the crumb rubber, making them more visible on turf fibers.

Zeolite

is a porous inorganic mineral that can be dyed in different colors when used as an infill. This type of additive has been known to absorb odors, reduce noise and provide superior drainage compared to other kinds of turf infills. Zeolite can also increase the pH level, which makes it ideal for pet areas where owners may have issues with urine from animals.
There are other types of infills used in the industry today, but these three cover a large majority of artificial turf applications.
How Do I Decide What Infill To Use?
The first step in deciding what infill to use is determining the climate you are located in and the purpose of the turf. Crumb rubber has been known to hold up better under extreme weather conditions because it absorbs less water than other turf infills. Zeolite provides superior drainage, which is better for areas with a lot of precipitation.

The second factor will be keeping your budget goals in mind since some products can cost more or less depending on the quality.

The third step is to consider how much time and effort you are willing to put into maintaining your artificial turf and determine what type of infill will be better for those specific needs. If you have a lot of pets that use the turf extensively, Zeolite may be your best bet.

The last step would be to research each infill thoroughly online before deciding which type to use for your turf. One of the bigger mistakes people make is by not doing enough research beforehand, so take this step seriously! Here are some common applications:
Infill for Putting Greens
It is a common myth that only sports fields require infills. When it comes to putting greens, there are two main types of infill: Zeolite and Silica Sand. The primary difference between the two will be how much playability you want from your turf while addressing drainage issues.
The type of sand used in making artificial grass is often called silica sand because it comes from quarries made primarily of silica. Once you decide on using Zeolite or Silica Sand, several other factors come into play, such as the type of turf and average temperatures in your area.
Infill for Sports Fields
The infill for sports fields is typically made out of crumb rubber or acrylic coated sand. Both options will provide cushioning, which reduces the risk of injuries while providing a safe place to play.
Typically, you would want to use crumb rubber if your climate consists of extreme weather conditions, including high heat and humidity in addition to rain often throughout the year. Crumb rubber will maintain its structure and provide a durable infill that will last through all of these conditions.
Infill for Children's Play Area
Children's play areas are typically designed for low-impact activity, so choosing a soft infill will be ideal. Zeolite and crumb rubber provides cushioning while also safe to use in places where kids frequently play on the turf.
Infill for Pet Owners
Pet owners will typically use Zeolite infill because it absorbs odors and can be dyed in different colors. Zeolite can also increase the pH level, making pet urine more manageable, reducing musty urine smells that may occur on your turf over time.
Infill FAQs Answered
What kind of infill should I use for artificial turf?
While there are several types of infills on the market today, these three represent a majority of artificial turf applications: crumb rubber, Zeolite, and silica sand.
How much do infills cost?
Infill prices will vary based on factors such as quality and quantity. If you want to save money while still getting an excellent infill, you may want to consider recycling your old turf.
What does infill do for artificial grass?
Infills are typically used on sports fields, putting greens and children's play areas to provide durability, cushioning, and drainage where people will be walking.
Can play sand be used as infill for artificial turf?
Play sand or "kitty litter" can be used as an infill for artificial turf, but not recommended. The reason is that the sharp granules of play sand will cause a lot of wear and tear on your grass which means you would have to replace it quite often.
What is non-infill turf?
Non-infill artificial grass is typically used on lower-budget projects. It is a popular option for homeowners because the installation cost is much cheaper, although it is always recommended to use infill.
Final Thoughts
If you are ready to invest in artificial turf for your business or home, you must take the time to research before making a final decision. Not only will this save you money by avoiding costly mistakes down the road, but it can also help prevent injuries during high-activity events like children's play areas and sports fields.
Selecting an infill type should be based on three things: climate, usage of space, and cost. If all of these factors seem overwhelming, let Xtreme Green handle everything from sourcing materials to installation so that your investment pays off with success!
Our team has been installing artificial grass since 1995 while providing excellent customer service at every step along the way. We look forward to hearing about how we can make your artificial turf dreams come true!